Stefan Hadjiev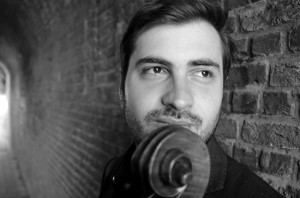 Bulgarian cellist Stefan Hadjiev was born in Sofia in 1982. He graduated the National School of Music where he studied cello and chamber music with Daniela Cherpokova-Nikolaeva. In 2001 Stefan was awarded with full scholarship to continue his studies at Guildhall School of Music and Drama, London with Stefan Popov.
Ever since he moved to London, Hadjiev took a large scale of various musical explorations. He appeared as a soloist with the Southbank Sinfonia and performed both as soloist and chamber musician at the most notable music venues such as Wigmore Hall, Queen Elizabeth Hall, Barbican, King's Place etc. Stefan also took part as musician/actor at the English National Theatre production Every good boy deserves a favour.  In 2009 Stefan was horned to perform at the St James's Palace for H.R.H. Prince of Wales.
He is also a member of International Mahler Orchestra a Berlin based orchestra with non hierarchical democratic structure engaged in various symphonic, chamber music and cross art projects.
Stefan's repertoire includes a wide spectrum of music from the baroque era to the very recent days. He toured across Europe and South America and his performances of Bach's second cello suite in Berlin and Kassel received a warm respond both from the audiences and the critics.
One of Stefan's aims as musician is to communicate the classical music to new audiences, especially people who have never or rarely been exposed to it. Although he considers himself as a  "orthodox" classical musician, Stefan has a close connection to other musical genres. Stefan himself took part in various jazz and free-style improvisation projects.