César Nunes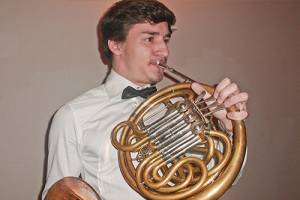 Was born in Oporto, Portugal in January 1992.
He began his musical studies in flute and organ at the age of 6. In 2003 he went to study at the Oporto Music Conservatory in the horn class of professor Hélder Carneiro. Simultaneously, he studied in Costa Cabral Music Academy with professors Hélder Vales and Ricardo Matosinhos. In 2012 he started to study Bachelor at the ESMAE (University of Music and Performing Arts – Porto) where he had the opportunity to work with professors Abel Pereira, Bohdan Sebestik, Hugo carneiro, Nuno Vaz and Ricardo Matosinhos. In his last year of Bachelor, he went to Leipzig to study with the professors Thomas Hauschild and Bernhard Krug at the Hochschule für Musik und Theater "Felix Mendelssohn Bartholdy".
César has attended masterclasses and workshops with many horn players such as Froydis Ree Wekre, Radovan Vlatkovic, David Johnson, Jeffrey Nelsen, Thomas Hauschild, Bernhard Krug, Christian Lampert, Szabolcs Zempléni, François Bastian, Jan Golebiowski, Jan Schroeder, Hélder Vales, Abel Pereira, Leonardo Feroleto, Hélder Carneiro and Nuno Vaz.
Over the last years he has collaborated with many orchestras:
Cairo Symphony Orchestra, Ashot Tigranyan Cultural Musical Foundation (Armenia), Neue Philharmonie München, INTERNATIONALE JUNGE ORCHESTERAKADEMIE (Bayreuth), Orquestra Metropolitana de Lisboa, Orquestra Filarmonia de Vermoim, Orquestra de Câmara de Braga, Orquestra de Gaia, Oporto Chamber Ensemble, Orquestra de Câmara da Maia, Orquestra do Norte, Orquestra de Jovens dos Conservatórios Oficiais, Orquestra Sinfonieta (ESMAE).
In these orchestras, César had the pleasure to work with conductors like Rodolfo Saglimbeni, Yoel Gamzou, Oksana Lyniv, Ahmed El Saedi, Fuad Ibrahimov, Matthias Foremny, Christoph König, Douglas Bostock, Eduardo Garcia-Barrios, Rafa Agulló Albors, António Saiote, Kamen Goleminov, Fernando Marinho, Gil Magalhães, Francisco Ferreira, António Ferreira, António Baptista, and others.
He also played as a Soloist with the Oporto Chamber Ensemble and the Oporto Music Conservatory Orchestra in 2012 and 2013.
In the frame of those orchestra-jobs, he have already played in a lot of countries like Portugal, Spain, Switzerland, Netherlands, Germany, Armenia, Azerbaijan, Egypt and China.
César has been working regularly with Cairo Symphony Orchestra (Egypt), Ashot Tigranyan Cultural Musical Foundation (Armenia), Neue Philharmonie München, Sinfonietta Isartaland and INTERNATIONALE JUNGE ORCHESTERAKADEMIE (Bayreuth), and as a horn teacher in a Portuguese wind band school since 2009.
He is currently the Principal Horn of the Cairo Symphony Orchestra.